WHY CHOOSE EXIT RSVP HOMES REALTY?
EXPERT MARKETING SUITE™
With EXIT Realty's Expert Marketing Suite™, you have the technology you need to maximize your listing's exposure and generate and capture leads. Included as a benefit of your EXIT membership at no additional cost, this suite includes a customizable branded and unbranded virtual tour which is syndicated to popular real estate portals, a downloadable flyer, a custom website created exclusively for every eligible EXIT Realty listing with its own unique web address, a photo gallery, virtual tour and lead generation technology built-in, and more. EXIT Realty has also provided a marketing video to show prospective sellers how this technology will position their home above the competition. Every EXIT Associate has access to our Expert Marketing Suite™.
SMART SIGN™ GEOLOCATION TECHNOLOGY
Included in EXIT Realty's Expert Marketing Suite™, all EXIT associates have access to our Smart Sign™geolocation lead generation technology. Interested buyers can text EXIT to 85377 in front of any EXIT listing and instantly receive property information on their smartphone. The listing agent receives the lead on his or her mobile device. It's all possible when the brokerage has completed the MLS paperwork to allow us to pull IDX data.
EXIT RESOURCE CENTER
Much more than a warehouse of marketing and administrative resources, the RC is the private member's area of EXIT Realty accessible only by our associates. In the information hub of EXIT Realty, associates can manage all of EXIT's technology resources as well as access fresh content, best practices, an easily-searchable knowledge base and training resources.
EXIT PROMO SHOP
EXIT Promo Shop provides a huge selection of more than 4,000 marketing pieces to help you find, get and keep clients as well as sponsor agents. This powerful promotional tool makes it easy to create customized flyers, brochures, postcards and other marketing materials demanded by sellers and appreciated by buyers. EXIT Promo Shop also combines an exceptional contact management system with top tier online and offline drip marketing campaigns.
MOBILE BUSINESS CARDS™
Get your contact information right into the palm of a prospect's hand by using EXIT's free Mobile Business Card™ technology. Choose a vanity code which prospects can text to 85377 to receive your Mobile Business Card™ right on their smartphone. The system notifies you when someone has requested your MBC and delivers their mobile number right to your phone.
EXIT REALTY CONNECT APP
The EXIT Realty Connect App Combines key elements of the Resource Center, Expert Marketing Suite™, Mobile Business Card™, and property search for consumers this app is the Swiss Army knife for EXIT Associates.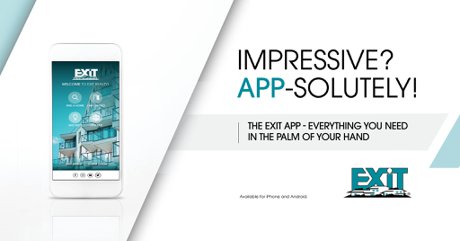 DO YOU THINK YOUR BUSINESS COULD BENEFIT FROM THIS TECHNOLOGY?
Call 954-989-4909 or fill out the form below.
today for a confidential conversation!